In Gratitude Legacy Circle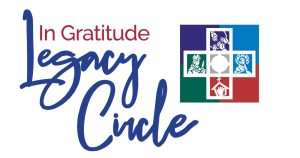 The Corpus Christi Foundation was created in 1999 to provide a secure and lasting gift for future generations of the Lakeshore Catholic Community.    The In Gratitude Legacy Circle recognizes those individuals and families who wish to remember the Corpus Christi Foundation in their estate plans.
A gift to the Corpus Christi Foundation through the In Gratitude Legacy Circle ensures that the distributions from the Foundation endowments will continue to serve – for decades to come – the Catholic Community of Our Lady of the Lake, St. Francis deSales, and Corpus Christi School.  It also allows the Foundation to thank you for the future plans you have made.
To become a member of the Circle, simply fill out the "Letter of Intent" form (click link below and print this form) and mail it to Corpus Christi Foundation, 195 West 13th Street, Holland, MI  49423, or return it by email at info@ccfoundationhz.org.  If you would like more information, please contact us via telephone at 616-732-5017 or via email at info@ccfoundationhz.org.
Letter of Intent – In Gratitude Legacy Circle
We give today to bless others in the future…
For more information about the benefits of charitable giving, please see our brochure Making the Most of Charitable Giving.
Tax I.D.#38-3473661