Past Grant – Testimonial
Thank you for investing in our vibrant Catholic community!
The Foundation has made grant awards to our parishes and school since 2005 for many wonderful projects. Grant funds are typically available because of an annual distribution from the Foundation's general fund. We are so grateful to our generous donors who make these grant awards possible!
Tom Eggleston, Pastoral Associate for Our Lady of the Lake and St. Frances de Sales parishes, recently submitted a grant application for a Pilgrimage of Mercy project. This wonderful joint project between the two parishes was funded by the Foundation, and is described below.
Pilgrimage of Mercy in the Year of Mercy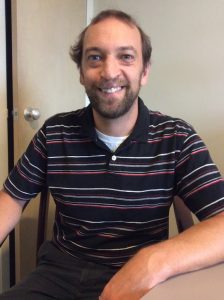 Tom Eggleston is a graduate of Aquinas College and the University of Notre Dame, and has been working in the Catholic Community of Holland/Zeeland for four years.
When Tom was asked about the value of the Corpus Christi Foundation to him and his work he replied, "People of faith need a little jolt – something surprising and challenging for them. The Foundation can provide the funding for such a program or activity that is out of the ordinary." He thinks about, "What is it that really wakes people up and allows them to see the church, grace and God in a completely new way? "
A Corpus Christi Foundation grant funded a recent project, Pilgrimage of Mercy, during the Pope Francis Year of Mercy. The project involved people walking from the Holland area to the Cathedral in Grand Rapids. Fourteen people walked the entire way, and the group swelled to thirty-five by the time they walked through the Cathedral doors. The walkers prayed, meditated, took shelter to avoid a tornado warning, and turned an ordinary walk into a spiritual pilgrimage of Catholics sharing faith together. Since the Pilgrimage he has heard of individuals who have shared their personal moments on the journey that have impressed and inspired them beyond just the time and distance of the experience.
Tom appreciates the several grants he has been awarded and he believes the opportunity will come up again to "Do something really brave in the name of God" and he will ask the Corpus Christi Foundation for funding.